In the first article of this series, we revealed an unexpected obstacle to your success in outsourcing in the IT industry – the CVs!
While in our previous 3 tips for efficient tech talent offering article, we talked about how you can improve your processes so that the resumes work for you and not against you, in this one we will focus on the content of the CV document itself.
We cannot underestimate the importance of a good CV as this is actually what gets IT talent to the next step of the hiring process. The information in it needs to tell all the important facts the hiring person is looking for – tech stack, experience, etc. That's why you should pay extra attention to what you include and how you include it in the CV.
But that's not all. There are plenty more details you should consider – from brand consistency to formatting. As we've mentioned previously, the details are what often put spokes in the wheel of your sales efforts.
Let's not make this longer than necessary and go straight to the tips.
1. Have consistency and maintain branding
The first detail to keep in mind is the consistency of the CVs. There's a double benefit to this.
On the one hand, you are building the image of a professional company whose employees have great attention to detail and don't rush things through which makes you a desirable partner.
On the other hand, you are building your brand and in that, a distinctive and recognizable style will give you an advantage over your competitors. Especially if you consistently offer great IT talent.
We, at East, have a tool that makes it easier for you to achieve this visual consistency. It's called ßeast, our partner portal. There you can use a customizable template to design CVs that are consistent and professional-looking. And despite its name, you will see that it's very easy to tame its controls. More on this later, so don't change the channel.
2. Work on formatting and writing style
Looking at the CVs you are sending is just one of the many tasks that hiring agents are burdened with during the day, which means that you have very limited time to catch their attention. So you need to help yourself by formatting the CV in such a way that it's skimmable and a quick scan will reveal the most important information. There are a few ways you can do this.
Consistent formatting – Use consistent formatting that underlines the most crucial points. You may opt for either a free text in which some sections are bolded, or line items. But don't use too many different formatting styles so that your CV doesn't become too restless.
Spaces – Insert white space to break up sections and make the CV easier to read. This includes adding margins, using space between paragraphs, and using bullet points to highlight key information.
Lists – Take advantage of bullet point lists to present your talent's skills, accomplishments, and responsibilities, too. It makes it easier to read and helps the employer quickly see what you have to offer.
Also, pay attention to the writing form – we advise using he/she instead of writing from the candidate's point of view with "I" as a subject. This makes the CV sound more professional.
3. Keep the work experience information structured and concise
It's better if you approach experiences chronologically. Sequence experiences in such order and add time frames to everything – education, work experience, and projects. The reason for this is again the fact that CTOs, HR agents, and other hiring managers in the IT industry have very limited time to spend on a document. This formatting allows them to quickly get a grasp of your tech talent's background.
Add a list of responsibilities to the professional experiences and mention related projects (if there is no NDA which forbids you from doing this) to highlight the talent's involvement. Saying this, we advise talking specifically about the achievements and responsibilities of the candidate rather than the company, though the industry can be relevant info for some clients.
Also when mentioning this information, don't forget to include the key technologies from your tech stack that the IT pro has used during this experience.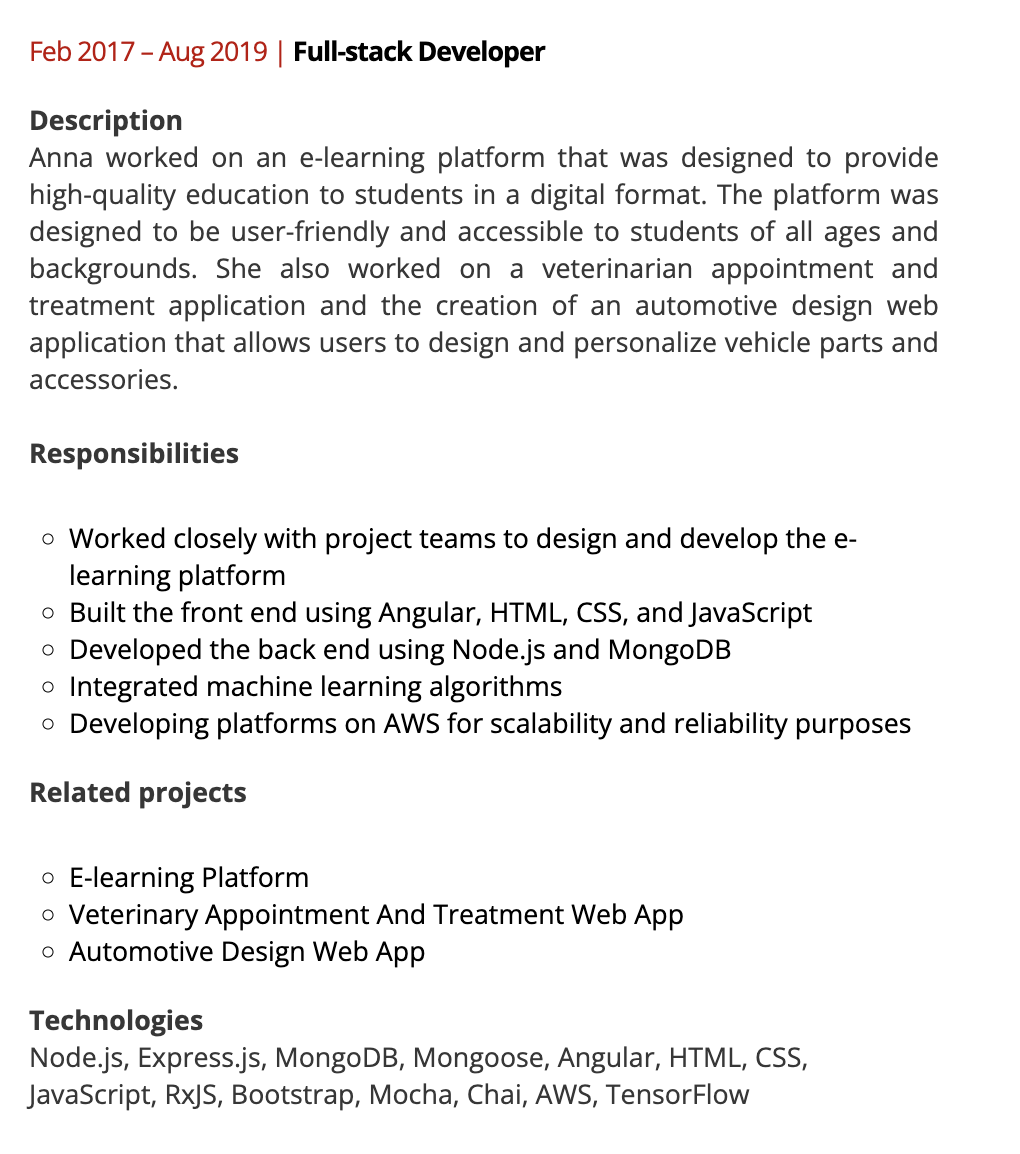 4. Provide a breakdown of the projects in which the talent has participated
Projects are a vital part of the CV as they highlight the experience and skills of your talent. They serve as proof of what you claim. Here's how you should present them:
Summary – Start with a short summary of the project. This helps to understand the skills and experience the candidate gained from the project, making it easier to determine whether the candidate is a good fit for the job.
Roles and responsibilities – Follow up with their role and responsibilities in it. Those give a clear understanding of the skills and experience they have gained working on the project, as well as their level of involvement and contributions.
Team size – Mention a team size as well. Including it on a CV highlights the developer's ability to work collaboratively and effectively with others, indicating their potential as a valuable squad member.
Duration – Check if the project duration is there, too. This helps hiring managers assess the depth of the project and whether is it still relevant, or is it more kind of an ancient work experience.
Tech stack – Again, don't forget to list the tech stack for each project.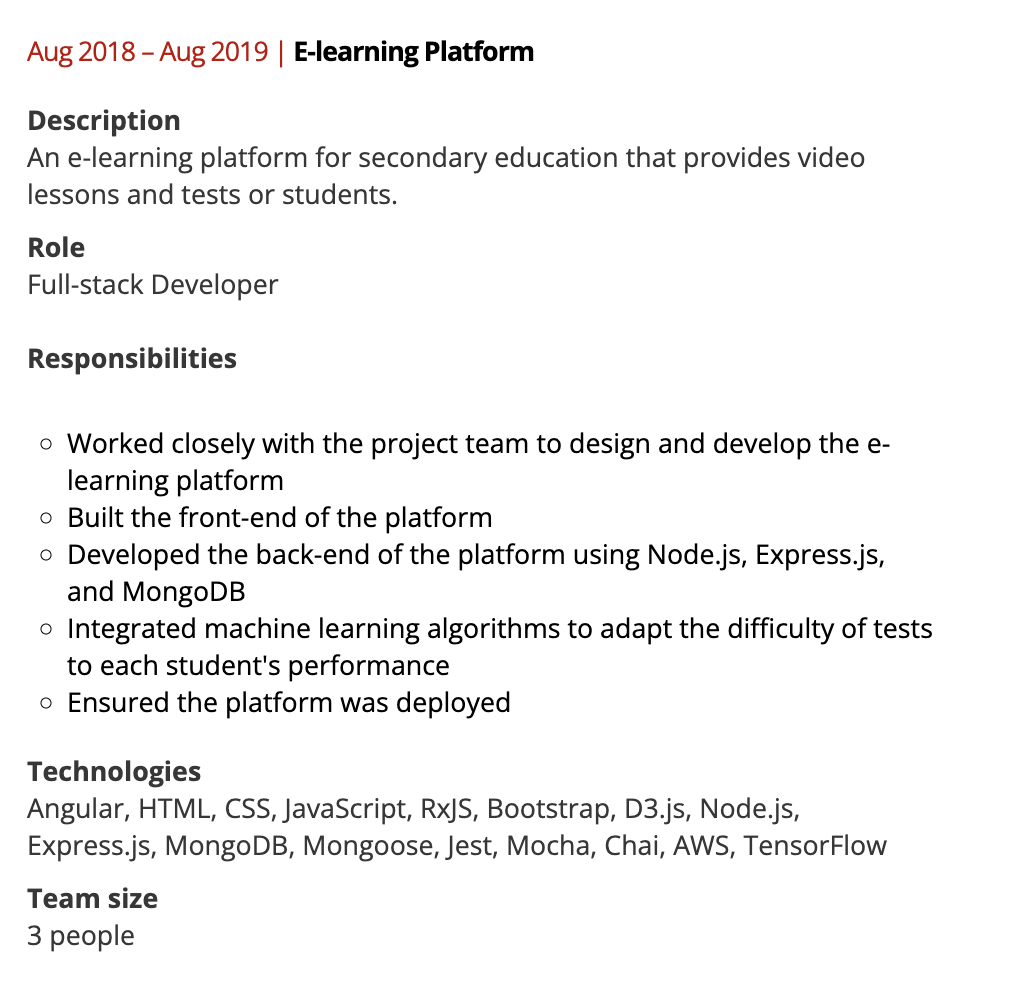 5. Organize the talent's tech stack list and emphasize their strengths
By this point, we've mentioned this term so often that it's high time we elaborate on it.
List only the technologies that your IT talent has direct familiarity with, not every single one they have tried, and sort them by proficiency and category. Make sure you have added them to the relevant work experiences and projects so that they are supported by facts and provide the full picture. This is important because this gives an indication of how recently the candidate has worked on certain technologies – there's a big difference if they worked with Java Spring Boot in 2023 or 2014, for example.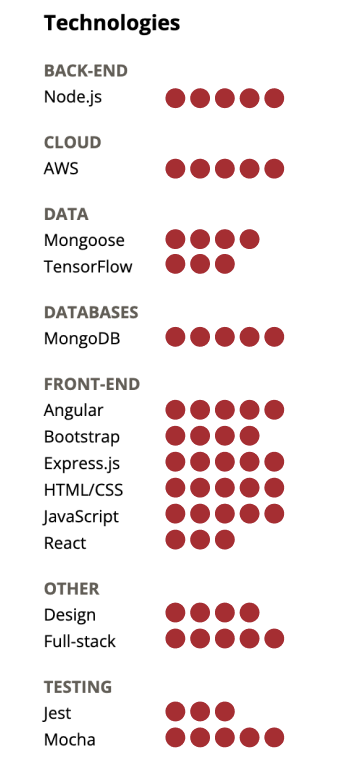 6. Include the talent's education and certifications
Even though the focus is on actual experience, listing the talent's degree and certificates shows that they are working on developing their skills and it may be an advantage over candidates who haven't invested in education and additional qualifications.
In some positions, certificates are a must, so if they are missing from the CV, this is a deal breaker.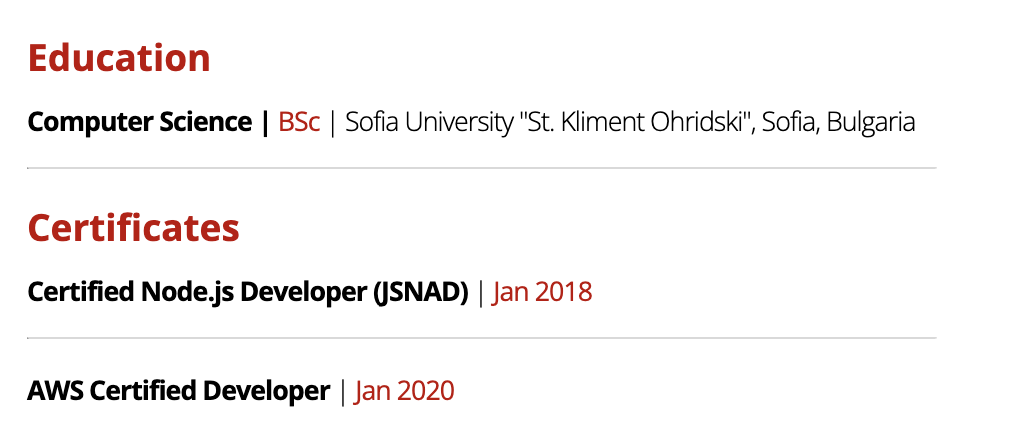 7. Include a CV summary
The summary is frequently underestimated, but it is the most crucial part of a CV. So spend an extra minute on this introduction because it can make or break the first impression. It should express the candidate's strengths while avoiding cliches. It also should not make empty statements without backing them up. If you list too many adjectives without explaining how these qualities show in the candidate's work, it is hard to believe they are true.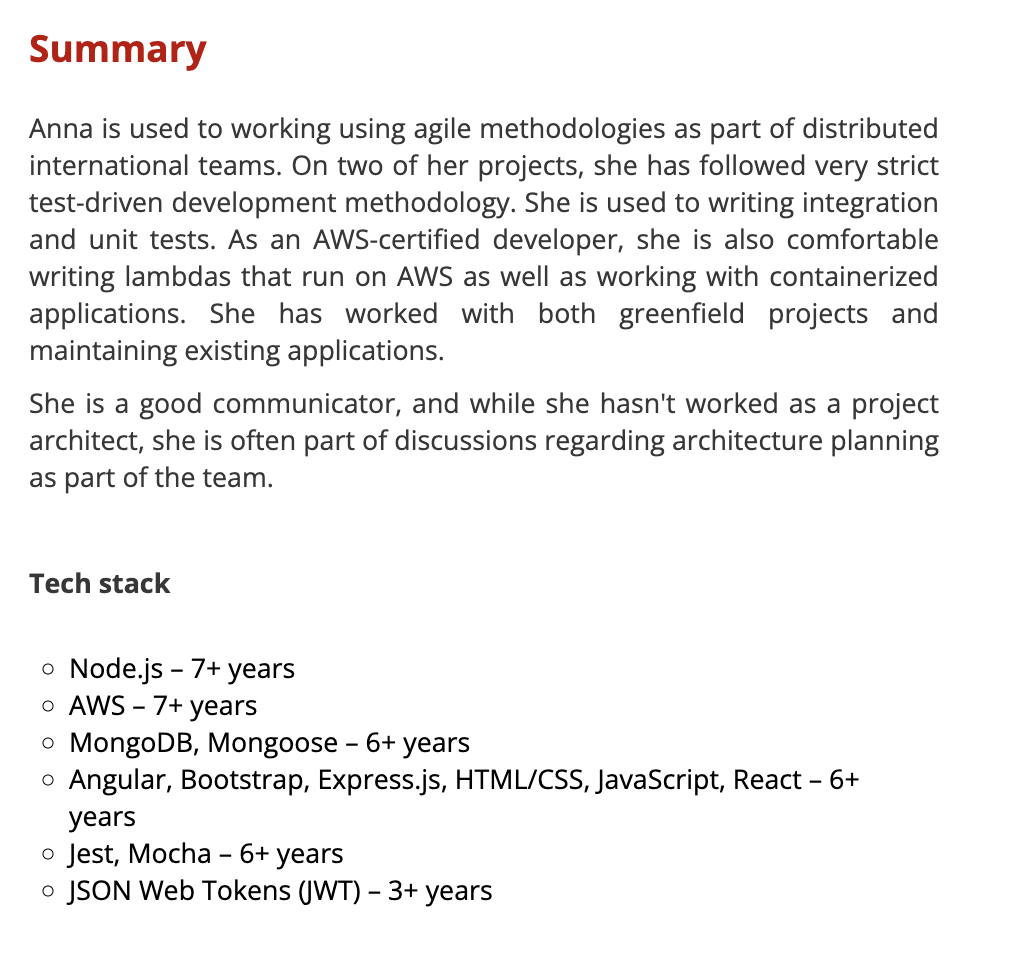 8. Make sure the grammar is on point
Impeccable grammar is very important. It shows that you are a professional and competent partner who pays attention to detail. And vice versa – a lot of spelling and punctuation mistakes lessen your chances of making a good impression.
So check the grammar before sending a CV to a client. Take your time to proofread carefully, but know that if you are pressed by a tight deadline Grammarly and Quillbot are great tools.
Be consistent in your use of verb tenses and capitalization too. This tip is again aimed at making it easy for the reader to quickly navigate through and grasp the information you've listed.
9. Partner with East – create your CVs in our Partner Portal ßeast and get new opportunities
We at East aim to make the IT talent offering process easier for our partners while requiring as little additional effort as possible. This is why submitting candidates to our ßeast Partner Portal is a good idea – we can offer these candidates more efficiently through our streamlined process.
Our portal ßeast allows you to manage your CVs in one place and edit them directly in it, which means you don't need to worry about templates – you can create company-branded CVs. They include your company colors and logo, and you can send them to clients without being linked to East.
Once your tech talent's CV document is formatted, it can then be submitted for opportunities suitable for the candidate, even months or years from now and if there is info to be updated – it is done very simply with just a few clicks.
And when we say months or years we mean it. Because once the profile of the candidate has been created on ßeast, you will not need to share and dig for CVs anymore, since the candidate will be in the database, accessible for you at all times.
Conclusion – Why does it make sense to put the effort into polishing the CVs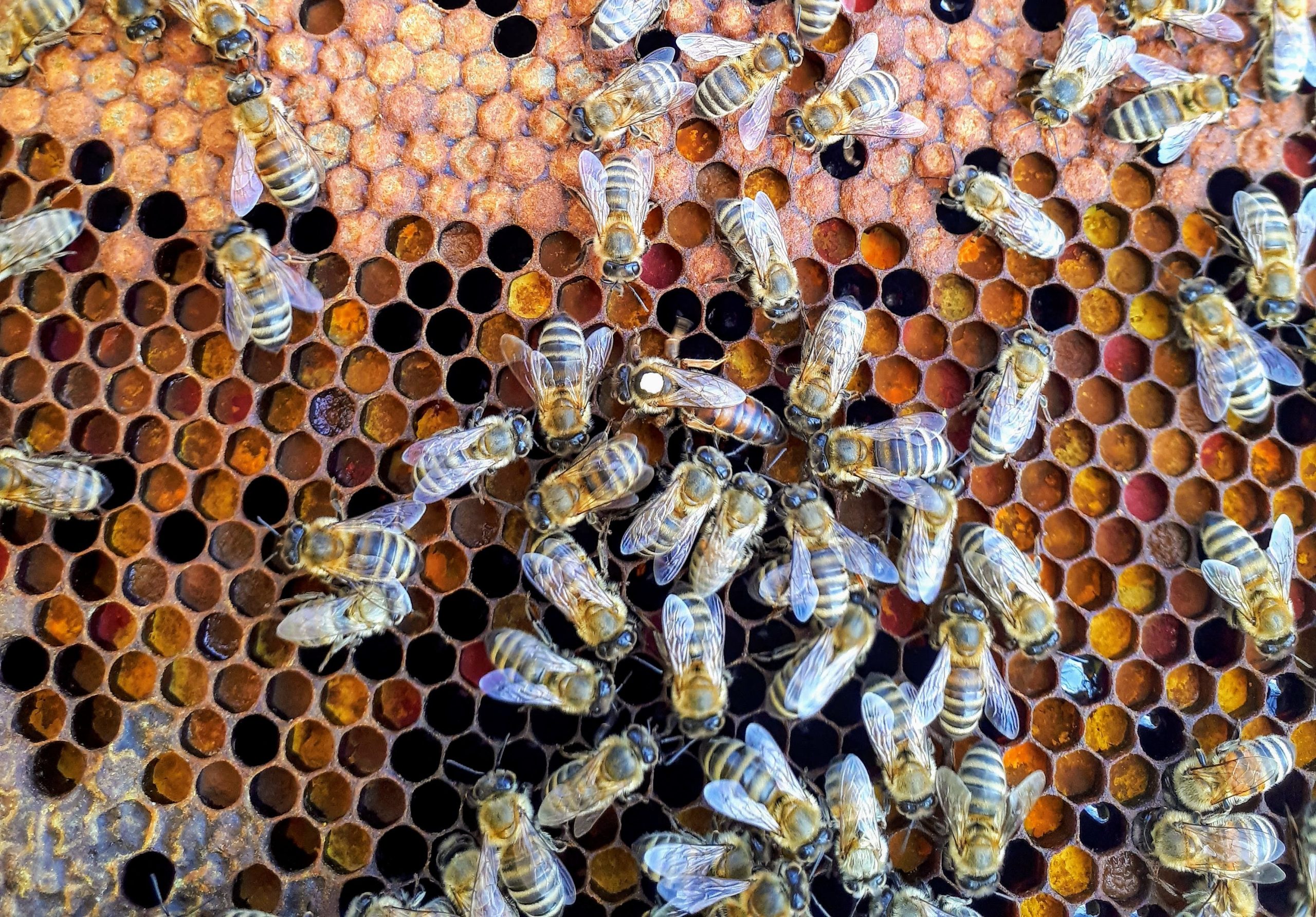 Sometimes we have cases where we are involved in the hiring process right from the start and we can influence the decisions of our clients. In these scenarios CVs are important, but even if they are poorly written we can try to bridge the gap in talks.
But we also serve many cases, where the client first reviews CVs, and only after seeing interesting enough profiles do we get into more in-depth talks. In these cases, the quality of the resume is a "life or death" kinda issue.
In the Nordics like in many other markets, the current trend is very much in-sourcing, which means we see this second type a lot. And that means that you need to step up your CV game if you want to be successful.
I'm an expert in communications, partner relations, processes, and operations with understanding of the Nordic mindset. I have developed an in-depth perspective on the successful offering process of IT services and talent presentation to the Nordic clients.

I currently aid Nordic companies to source talent from the Balkans and set up processes to improve the efficiency and success rate of IT offshoring and nearshoring ventures. I've gained my knowledge about Nordic cultures studying Scandinavian studies in Sofia university and living in Sweden.

Follow me and East on LinkedIn to stay updated about new articles.